Phil England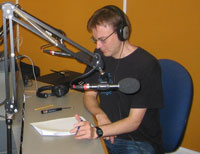 Climate Radio producer Phil England is a freelance journalist and, along with Ed Baxter, is co-founder of ResonanceFM. Phil has been producing radio programmes on all things related to climate change since 2003. Climate Radio has been his principal focus since 2006.
---
Joining Phil in the production of Copenhagen Daily – in alphabetical order – were the following…
Ed Baxter
Dr Edmund Baxter is Station Manager and co-founder of the award-winning community radio station, ResonanceFM. He was included in the Independent on Sunday's Happy List, for adding to the nation's joy through his pivotal role in the station. Ed is a visiting lecturer at Ravensbourne and London College of Communication.
Tom Besley
Tom Besley's concern about climate issues was inspired by grassroots activism at the Kingsnorth Climate Camp. Copenhagen Daily was his first broadcast of this kind for Resonance FM, for whom he has produced radio art in the past. He has a BA in Philosophy from the University of Durham where he initiated the inaugural Durham Arts Festival.
Arthur Girling
Arthur Girling occasionally works as a freelance journalist specialising in environment and energy issues. He has worked as a press officer at the Centre for Alternative Technology, an environmental organisation in Wales researching and promoting sustainable living. In 2008, he worked as a television journalist in Spain on Andalucia Sin Fronteras. The programme reported on human rights, immigration and other political issues in southern Spain.
Most recently he completed an MA course in Environmental Politics at King's College, choosing to focus on EU climate change policy.
Frederika Whitehead
Frederika Whitehead is a freelance journalist and editor based in London.She writes about all things environmental and has focussed in the past on sustainable building design, waste and recycling, and government policy. She is a sub-editor for The Guardian and she also makes programmes for Resonance 104.4 FM.