Damien Hirst appropriated our work!
Podcast: Download
Subscribe: RSS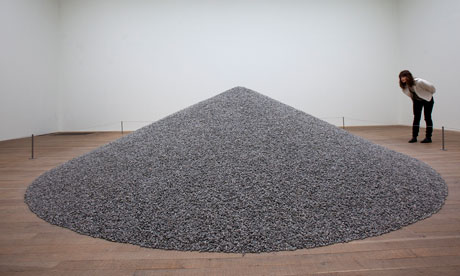 The new Damien Hirst retrospective which opens tomorrow 4th April at Tate Modern has forced a last minute revision of our BP themed alternative audio tour. The Hirst exhibition appropriated the floor space which contained Ai Weiwei's Sunflower Seeds – one of the featured artworks in our Tate à Tate audio tour. This forced us into a last minute revision of the work before the launch – necessitating the selection of a new work, writing a new section of the guide, re-recording our trusty narrator Josephine Borradaile, creating new sound design, re-editng, remastering and re-uploading the work. Our unauthorised audio tour Drilling The Dirt (A Temporary Difficulty) was successfully installed in the Tate Modern on Friday 23rd March. It is part of a series of three works critical of Tate's complicity in BP's social and environmental crimes through its acceptance of BP sponsorship. We have archived the Ai Weiwei section here for your enjoyment and edification.
Tate recently purchased eight million of Ai Weiwei's porcelain Sunflower Seeds for an undisclosed sum.
In 2008 Damien Hirst donated the proceeds from the sale of one of his artworks to Survival International. With his new show opening at the Tate Modern, Damien Hirst has a powerful opportunity to make a public statement against the treatment of the Canadian indigenous peoples who have been impacted by BP's interests in the tar sands.
For more on BP and Shell's meetings with the UK government in the lead up to the 2003 invasion of Iraq see the minutes obtained under Freedom of Information by Greg Muttitt.